DynaDish 5 / RBDynaDishG-5HacDr3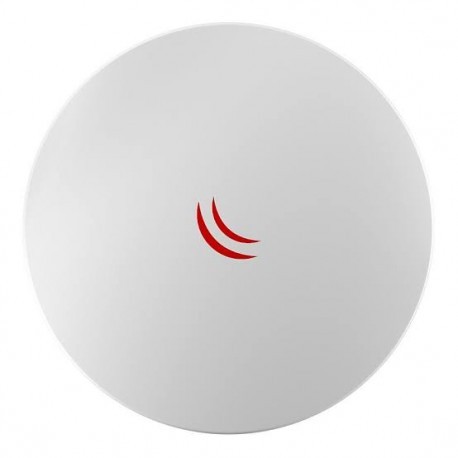 The DynaDish 5 is a new 802.11ac outdoor device with an integrated 25dBi antenna. Compact in it's design, it is a simple and completely integrated product with everything you need to quickly install a reliable point to point link.
The DynaDish 5 is powered by a new 720MHz CPU from Qualcomm.
- RBDynaDishG-5HacD-US (USA) is factory locked for 5170-5250MHz and 5725-5835MHz frequencies. This lock can not be removed.
- RBDynaDishG-5HacD (International) supports 5150-5875MHz range (Specific frequency range can be limited by country regulations).
Specifications
Details
Product code
RBDynaDishG-5HacDr3
Architecture
MIPSBE
CPU
QCA9557
CPU core count
1
CPU nominal frequency
720 MHz
Dimensions
Ø 404mm, height 175mm (without mount)
License level
3
Operating System
RouterOS
Size of RAM
128 MB
Storage size
16 MB
Storage type
FLASH
Tested ambient temperature
-40°C to 70°C
Suggested price
$179.00
Powering
Details
PoE in
802.3af/at
PoE in input Voltage
11-60 V
Number of DC inputs
1 (PoE-IN)
Max power consumption
9 W
Wireless
Details
Wireless 5 GHz Max data rate
867 Mbit/s
Wireless 5 GHz number of chains
2
Wireless 5 GHz standards
802.11a/n/ac
Antenna gain dBi for 5 GHz
25
Wireless 5 GHz chip model
QCA9892
Wireless 5 GHz generation
Wi-Fi 5
Ethernet
Details
10/100/1000 Ethernet ports
1
Other
Details
PCB temperature monitor
Yes
Voltage Monitor
Yes
Certification & Approvals
Details
Certification
CE/RED, FCC, EAC, ROHS
Wireless specifications
| 5 GHz | Transmit (dBm) | Receive Sensitivity |
| --- | --- | --- |
| 6MBit/s | 31 | -96 |
| 54MBit/s | 28 | -81 |
| MCS0 | 30 | -96 |
| MCS7 | 27 | -77 |
| MCS9 | 22 | -72 |
Included parts
---