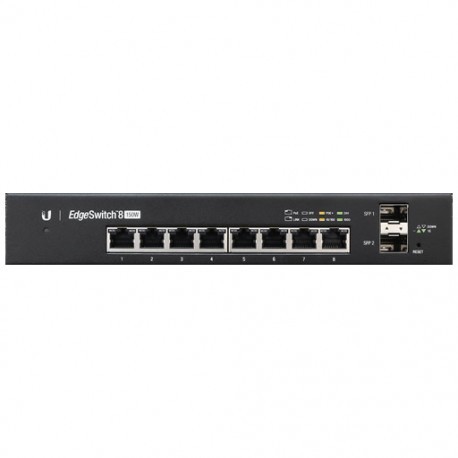 Managed PoE+ Gigabit Switch with SFP
The fanless EdgeSwitch® 8 is a fully managed, high-performance, PoE+ Gigabit switch. It delivers powerful performance and intelligent switching with its 10 independent switching ports. A DC input option is included for flexibility.
Model: ES‑8‑150W
Convenient PoE+ Support
Sharing a total of 150W, eight Gigabit Ethernet ports offer auto-sensing IEEE 802.3af/at PoE/PoE+ or 24V passive PoE to simplify your infrastructure.
Optical Fiber Backhaul
The EdgeSwitch provides fiber connectivity options for your growing networks. Two SFP ports provide uplinks of up to 1 Gbps.
Powerful Performance
The EdgeSwitch delivers robust switching performance with its total, non-blocking throughput of up to 10 Gbps.
Switching Capacity
The EdgeSwitch offers the forwarding capacity to simultaneously process traffic on all ports at line rate without any packet loss.
Advanced UI
The comprehensive UI is easy to learn and allows administrators to configure and monitor features in a graphical user interface. For advanced users, a Command-Line Interface (CLI) is available through telnet and SSH.
Download Datasheet:
---