Netmetal 5 / RB922UAGS-5HPacD-NM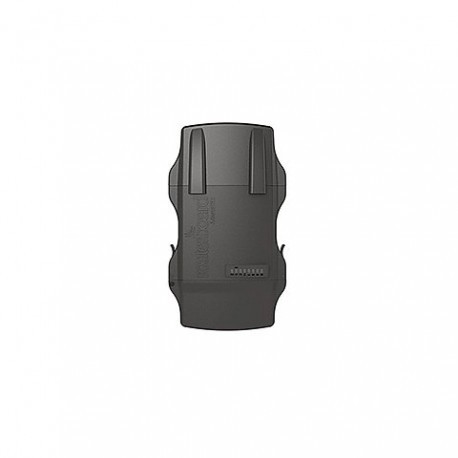 This NetMetal version is equipped with a miniPCI-express slot a SIM slot for 3G/4G device or additional wireless card, a high power 2x2 dual chain 802.11ac wireless and two RP-SMA connectors for external antennas
The NetMetal is a 802.11ac wireless device in a waterproof metal enclosure (IP54). Its rugged design is made to withstand the toughest conditions, but at the same time is easy to use and can be opened and closed with one hand. The solid aluminum enclosure also works as a reliable heat-sink for its high output power radio.
The NetMetal is equipped with powerful 720Mhz CPU, 128MB RAM, one Gigabit Ethernet port, 802.11ac wireless, one SFP cage, USB, RP-SMA connectors for external antennas and RouterOS L4 license.
- RB922UAGS-5HPacD-NM-US (USA) is factory locked for 5170-5250MHz and 5725-5835MHz frequencies. This lock can not be removed.
- RB922UAGS-5HPacD-NM (International) supports 5150MHz-5875MHz range (Specific frequency range can be limited by country regulations).
Specifications
Details
Product code
RB922UAGS-5HPacD-NM
Architecture
MIPSBE
CPU
QCA9557
CPU core count
1
CPU nominal frequency
720 MHz
Dimensions
143x247x48mm (PCB)
License level
4
Operating System
RouterOS
Size of RAM
128 MB
Storage size
128 MB
Storage type
NAND
Tested ambient temperature
-40°C to 70°C
Suggested price
$149.00
Powering
Details
PoE in
Passive PoE
PoE in input Voltage
8-30 V
Number of DC inputs
1 (PoE-IN)
Max power consumption
19 W
Wireless
Details
Wireless 5 GHz Max data rate
867 Mbit/s
Wireless 5 GHz number of chains
2
Wireless 5 GHz standards
802.11a/n/ac
Wireless 5 GHz chip model
QCA9882
Wireless 5 GHz generation
Wi-Fi 5
Ethernet
Details
10/100/1000 Ethernet ports
1
Fiber
Details
SFP DDMI
yes
SFP ports
1
Peripherals
Details
Number of SIM slots
1 Modem (Mini SIM)
MiniPCI-e slots
1
Number of USB ports
1
USB Power Reset
Yes
USB slot type
USB type A
Max USB current (A)
1
Other
Details
PCB temperature monitor
Yes
Voltage Monitor
Yes
Certification & Approvals
Details
Certification
FCC
Wireless specifications
| 5 GHz | Transmit (dBm) | Receive Sensitivity |
| --- | --- | --- |
| 6MBit/s | 31 | -96 |
| 54MBit/s | 27 | -81 |
| MCS0 | 30 | -96 |
| MCS7 | 27 | -77 |
| MCS9 | 22 | -72 |
Included parts
---