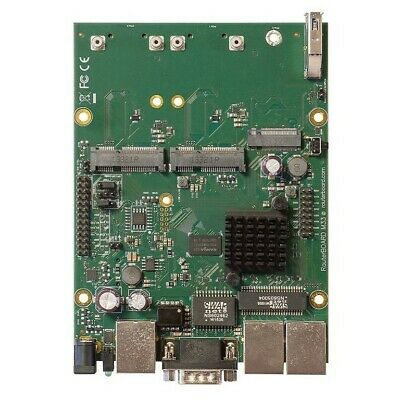 The RBM33G is a fully featured RouterBOARD device perfect for using in your own enclosure or building a custom solution. It uses the same PCB form factor and same mounting holes as it's predecessors (RB433 and RB953 series).
The RBM33G features a new two core CPU running at 880 MHz and 256 MB of DDR3 RAM and three gigabit ethernet ports. It is specially designed for setups that requires two 3G/LTE modems. You can use e.g.:
• Two miniPCIe 3G/LTE modems for multiple mobile connections (two SIM slots provided)
• One miniPCIe and One USB 3G/LTE modem leaving other miniPCIe slot for 802.11 wireless card (consult product Quick Guide for details)
The included USB 2.0/3.0 port can be used either for 3G/LTE modem or an external hard drive (consult product Quick Guide for details). For expanding storage, microSD and a PCIe M.2 slots are provided.
The RBM33G comes fitted with a RS232 serial port for console access. The device can be powered by PoE through it's gigabit ethernet connector or through the DC power jack.
Specifications
Details
Product code
RBM33G
Architecture
MMIPS
CPU
MT7621A
CPU core count
2
CPU nominal frequency
880 MHz
CPU Threads count
4
License level
4
Size of RAM
256 MB
Storage size
16 MB
Storage type
FLASH
Tested ambient temperature
-40°C to 70°C
Suggested price
$49.00
Powering
Details
PoE in
Passive PoE
PoE in input Voltage
11-28 V
Number of DC inputs
2 (DC jack, PoE-IN)
DC jack input Voltage
11-28 V
Max power consumption
24 W
Max power consumption without attachments
5 W
Ethernet
Details
10/100/1000 Ethernet ports
3
Peripherals
Details
Number of SIM slots
2 Modem (Mini SIM)
M.2 slots
1
MiniPCI-e slots
2
Serial port
RS232
Number of USB ports
1
USB Power Reset
Yes
USB slot type
USB 3.0 type A
Max USB current (A)
1
Certification & Approvals
Details
Certification
CE/RED, EAC, ROHS
---
---