911 Lite5 dual / RB911-5HnD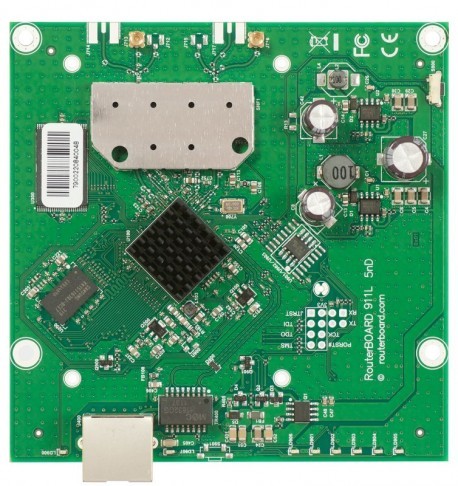 Perfect for building low cost CPE devices.
The RB911-5HnD is a small CPE type RouterBOARD wireless router with an integrated 5Ghz Dual Chain wireless card. It's equipped with powerful 600MHz CPU, providing superb value for money.
- RB911-5HnD-US (USA) is factory locked for 5170-5250MHz and 5725-5835MHz frequencies. This lock can not be removed.
- RB911-5HnD (International) supports 5150MHz-5875MHz range (Specific frequency range can be limited by country regulations).
Specifications
Details
Product code
RB911-5HnD
Architecture
MIPSBE
CPU
AR9344
CPU core count
1
CPU nominal frequency
600 MHz
Dimensions
105x105mm
License level
3
Operating System
RouterOS
Size of RAM
64 MB
Storage size
16 MB
Storage type
FLASH
Tested ambient temperature
-40°C to 70°C
Suggested price
$45.00
Powering
Details
PoE in
Passive PoE
PoE in input Voltage
6-30 V
Number of DC inputs
1 (PoE-IN)
Max power consumption
7 W
Wireless
Details
Wireless 5 GHz Max data rate
300 Mbit/s
Wireless 5 GHz number of chains
2
Wireless 5 GHz standards
802.11a/n
Wireless 5 GHz chip model
AR9344
Wireless 5 GHz generation
Wi-Fi 4
Ethernet
Details
10/100 Ethernet ports
1
Certification & Approvals
Details
Certification
CE/RED, FCC, IC, EAC, ROHS
Wireless specifications
| 5 GHz | Transmit (dBm) | Receive Sensitivity |
| --- | --- | --- |
| 6MBit/s | 26 | -96 |
| 54MBit/s | 22 | -77 |
| MCS0 | 26 | -96 |
| MCS7 | 21 | -71 |
---