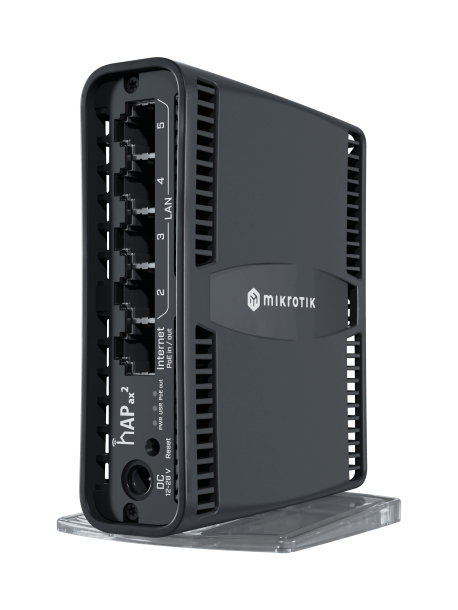 A Generation 6 version of the legendary hAP ac². With PoE-in and PoE-out, much faster wireless, more RAM, and a modern CPU. The smallest fully-fledged AX router on the market!
It's time to supercharge your home network with the Generation 6 wireless network and our latest addition to the beloved hAP series. hAP ax² has everything you might need in a primary home access point – and more! Forget endless reviews and comparisons – this is the perfect device for 99% of homes.
Wireless signal is now stronger than ever. Here are the two main ingredients of hAP ax's success: a state-of-the-art dual-band, dual-chain 4-4.5 dBi radio, and the 802.11ax standard with Wave2 support. Let's compare it to the previous generation: depending on your overall setup, that means up to 40% higher speed in the 5 GHz and up to 90% higher speed in the 2.4 GHz spectrum!
Included parts
Other
Details
Certification
CE, FCC, IC, EAC, ROHS
Certification & Approvals
Details
PoE-out ports
Ether 1
PoE out
Passive PoE
Max out per port output (input 18-30 V)
600 mA
Max total out (A)
0.6 A
Total output current
0.6
Total output power
16.8W
PoE-out
Details
Number of DC inputs
2 (DC jack, PoE-IN)
DC jack input Voltage
12-28 V
Max power consumption
27 W
Max power consumption without attachments
12 W
Cooling type
Passive
PoE in
Passive PoE
PoE in input Voltage
18-28 V
Powering
Details
10/100/1000 Ethernet ports
5
Number of 1G Ethernet ports with PoE-out
1
Ethernet
Details
Wireless 2.4 GHz Max data rate
574 Mbit/s
Wireless 2.4 GHz number of chains
2
Wireless 2.4 GHz standards
802.11b/g/n/ax
Antenna gain dBi for 2.4 GHz
4.5
Wireless 2.4 GHz chip model
QCN-5022
Wireless 2.4 GHz generation
Wi-Fi 6
Wireless 5 GHz Max data rate
1200 Mbit/s
Wireless 5 GHz number of chains
2
Wireless 5 GHz standards
802.11a/n/ac/ax
Antenna gain dBi for 5 GHz
4
Wireless 5 GHz chip model
QCN-5052
Wireless 5 GHz generation
Wi-Fi 6
WiFi speed
AX1800
Wireless capabilities
Details
Product code
C52iG-5HaxD2HaxD-TC
Architecture
ARM 64bit
CPU
IPQ-6010
CPU core count
4
CPU nominal frequency
864 MHz
RouterOS license
4
Operating System
RouterOS (v7 only)
Size of RAM
1 GB
Storage size
128 MB
Storage type
NAND
MTBF
Approximately 100'000 hours at 25C
Tested ambient temperature
-40°C to 50°C
Suggested price
$99.00
Specifications
---